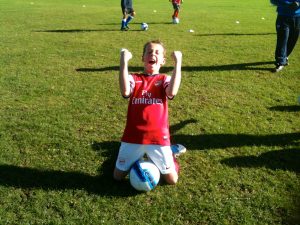 SoccerKidz one to one private football coaching sessions are for boys and girls aged from 6 – 14 years of age and of all abilities. We provide a structured technical one hour session to enhance and further develop your child's skills. Not only will we look at developing the strengths of your child, but most importantly, addressing the weaknesses in their game by producing a structured training programme to give positive and lasting results. Good practice and good habits learnt at an early age will give the best foundation possible for your child's future progression in football. We can also work with small groups of up to 4 children.
SoccerKidz 1-2-1 lessons are held on the grass pitches at Enfield Playing Fields.
SoccerKidz abide by the Child Protection and Best Practice regulations put in place by the Football Association. During our one to one sessions, we request that a parent or guardian is available for the hour to watch over the session.
For further information please request a call back with your name and contact details and we shall contact you as soon as possible.
Contact us here