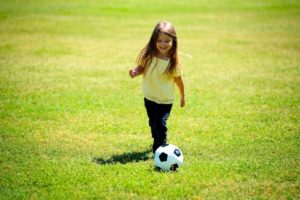 It's not just pupils who benefit from high-quality sports coaching sessions. SoccerKidz are highly experienced providers of PE cover for schools in and around London. Here are five key ways in which our football and sports courses can benefit schools and teachers as well as pupils and parents.
We Offer Genuine Expertise
Primary school teachers may not have the expertise of a fully qualified youth football coach, even if they have the responsibility of organising their school's PE and games lessons. This means they may not be the best people to pass on soccer skills, or techniques used in other sports.
At SoccerKidz, all our coaches have recognised qualifications from the Football Association or UEFA. They are also fully insured, DBS checked, and trained in emergency first aid and child protection.
We Give Teachers Time to Plan
Since 2005, all teachers are required by law to have time away for the classroom or sports field for planning, preparation and assessment. This obviously creates a gap in the timetable which needs to be filled.
As part of our school services, we offer PPA cover for schools in the London area, including Enfield, Welwyn Hatfield and Broxbourne. PE teachers can plan for future lessons secure in the knowledge that their pupils will be benefiting from lessons with fully qualified SoccerKidz coaches. We can work with the school's sports teachers, or operate independently.
We Get Children's Brains Engaged
As well as filling gaps in the timetable, we can also offer breakfast, lunchtime and after school sessions. The pre-school slot is particularly beneficial, as scientific evidence shows that if pupils take exercise early in the day, it helps to get their blood flowing and increases the amount of oxygen which reaches the brain. This aids concentration for academic lessons later on, so the whole school benefits too.
Our lunchtime or evening sessions encourage pupils to stay active in the middle or end of the school day. In the evenings, we offer separate multisport and football coaching sessions, so schools have plenty of choice as to what they offer.
Everyone Can Get Involved
The main focus of our activity is football coaching for schools in London and Hertfordshire, but we appreciate that not everyone loves our national game. So we also offer a range of games and activities focused on other sports, and cater for both sexes and all levels of ability. All our sessions are aimed at children aged 3.5 to 14, so we will have something to suit varied age groups.
If you have students who have a real aptitude for football, we also offer coaching in smaller groups as part of our gifted and talented program. Our extensive network of contacts with professional clubs in the London area helps if any pupils want to make a career in the game.
Our Sessions are Fun
Although we aim to give the pupils a secure grounding in all aspects of the sports we teach, we always put the emphasis on fun. We also make sure that success is recognised, either individually or collectively.
If your child enjoys the session, then this may feed through into other aspects of school life. If they are happy and motivated, then their behaviour in other lessons should improve as well.
PE Cover in London from SoccerKidz
SoccerKidz offer PE cover for schools in and around London, including in Cheshunt, Barnet and throughout East Hertfordshire. We also run a number of courses independent of schools, at weekends, and during the school holidays. If you would like to know more, follow this link and fill in the online form, or call us on 07946 260945.