Many different football skills can be practised in pairs, whether the players are on the same side or in opposition. Here SoccerKidz, who run children's soccer coaching courses in Edmonton and across North London, highlight some basic skills that can be practised safely in the garden or on a nearby pitch.
Passing
If you have a pitch to practise on, work over the initial distance of the width of the penalty area. This can be smaller depending on the age of the player. And remember the basics, the non-kicking foot beside the ball, and your eyes on the ball as you strike it.
As you get more proficient, try increasing the speed or decreasing the number of touches you take before passing it back (including passing it straight back) or introducing a time limit,  you can also increase the degree of difficulty if you complete 10 pairs, say, without a mistake.
Volleying
This is a useful practice that can be used either as a shot or a pass in a game because players often don't have time to let the ball drop to the ground because of opposition pressure.
Simply start by standing three yards apart from one another then the 'feeder' throws the ball underarm to the volleyer, who has to hit it back into the feeders hands. This can be built up to a bigger distance, hitting with alternate feet to improve all-round technique, speed limits, doing it without errors, and other refinements.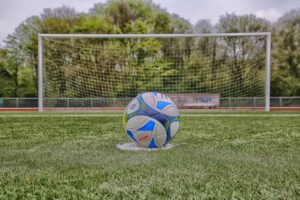 Penalty Taking
Penalties are a necessary evil, with many cup matches being decided by this method. There are a number of approaches to taking a successful kick.
Chip it down the middle after the goalkeeper has dived (known as a Panenka after the Czech player who first tried it in 1976).
Blast it into either of the top corners. University research suggests this is the most difficult for the keeper to save, even if they anticipate it.
Sidefoot it into the side netting (inside the goal).
And, as for keepers, watch the taker's run-up, his eyes, his body position, and don't commit yourself until the last possible second.
1 v 1 – Beating the Goalkeeper
This is a great exercise for would-be strikers and goalkeepers alike. Start the two players at a set distance apart. You can also introduce a time limit to simulate other defenders to get back and involved (if you have more than two players). This little bit of extra time is particularly good for younger players because a lot of things may be going through their minds.
The attacker has a number of options, to dribble it around the keeper, shoot past them, or chip it. You also have the option to swap the keepers around if someone doesn't want to be a keeper for too long.
However, for those that do, SoccerKidz run specialist goalkeeper coaching courses in and around London. This covers specialist skills such as shot-stopping, ball-handling, distribution, and dealing with crosses and back passes.
Children's Soccer Coaching from SoccerKidz
We run children's soccer coaching courses for youngsters in Edmonton, Enfield, Barnet, Broxbourne and many other locations in London and Hertfordshire.
We also run specialist one-on-one sessions for particularly gifted players, but all our main courses are open to children of all ages (3.5 to 14) and abilities, and girls are just as welcome as boys. The emphasis is always on learning in a fun way.
We are following all the latest guidelines with regard to the coronavirus, social distancing where possible, keeping pupils in their own bubbles, and cleaning all equipment after use.
If you would like to know more, follow this link and fill in the online form or call us on 07946 260945.