There are few things cooler in a youngster's mind than pulling off a cool new skill in front of their friends.
At SoccerKidz, who offer child's football training in Barnet and in and around North London, we can't guarantee that we'll turn your son or daughter into a star of the future who is able to master all of these skills. However, we will give them a good grounding in the basic skills of the game and ensure that they have lots of fun in the process. And for anyone who is particularly gifted, we also offer elite and one on one football coaching.
Here are five skills that light up the professional game today, including details on how to perfect them and who first perfomed the trick.
The Back Heel
Striking the ball with your heel is a trick that can be used in any part of the field, although there is a certain element of risk in doing it close to your own goal.
It is often best used as a pass in the final third of the pitch. However, you need good awareness of where your team-mates are for it to be truly effective. It can also be used as an unexpected shot on goal, as famously done by Denis Law in the Manchester Derby in 1974.
The first use of this skill is often credited to Real Madrid forward Alfredo di Stefano, who used it as early as 1955.
The Stepover
This is a more advanced skill, and involves a player feinting as if they are going to strike the ball with their non-standing foot, only to move their foot over the ball and wrong-foot the opponent.
It has a variety of other names, including the pedalada, the denílson, the scissors or the 'Roeder shuffle' (named after former QPR star Glenn Roeder).
There is some argument over who first used the trick, with some saying it was Dutch player Law Adam in the 1920s and 30s, whereas others believe it was Argentine striker Pedro Calomino in the early 1900s.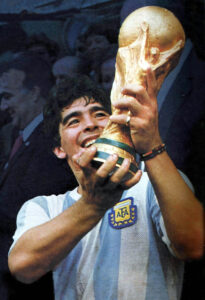 The Maradona Turn
Moving into more complex skills, this trick, also known as the 'roulette turn', has been used by a lot of international players. However, it was the famous Argentine (pictured above) who is widely credited with being the first exponent.
To execute this skill, you will need to approach the defender with the ball in front of you. Then stop the ball with your dominant foot and drag it back slightly. Then spin 180 degrees and plant the same foot between you and the defender. Your back should now be to the defender. Then catch the ball with your non-dominant foot. Roll the ball behind and away, continuing your run. You should have now done a 360-degree turn and, assuming you are naturally right-footed, the ball should be rolling to your left.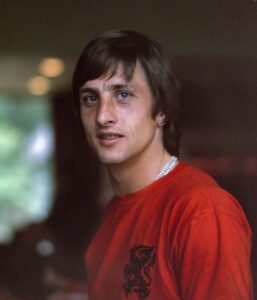 The Cruyff Turn
This was made famous by the Dutchman Johan Cruyff, above, in a 1974 World Cup game against Sweden. Like the Maradona turn, this is an excellent skill for taking on and beating a defender.
To do it, you will need to have the ball a little ahead of you. Then shape up as if you are about to strike the ball, but instead, drag the ball behind your standing leg with the inside of your other leg while turning at the same time, and then moving away at speed from your opponent.
The Rabona
It's believed that the first 'rabona' was performed by Ricardo Infante in a game between Estudiantes and Rosario in 1948. However, increasing numbers of players are doing it today, including Erik Lamela for Spurs in the North London derby this season.
To do it, you will need to plant your weaker foot firmly about 7-10 inches from the ball, facing in the direction of the kick/target. Stretch your arms out and lean back and away from the ball. Wrap your kicking foot behind your planted foot. Make sure you lift your kicking foot upwards by bending your knee. Also slightly bend your other knee to maintain balance and control over your body. Lifting your kicking foot as much as possible will allow for a more powerful kick.
Child's Football Training Courses from SoccerKidz
SoccerKidz offers a variety of child's football training courses, from weekend courses to after school and evening clubs.  If your child shows a lot of aptitude for the sport, then they may be suited to our one on one football coaching, which we offer in Cheshunt, Broxbourne, and across Herts and North London.
We also have an elite programme, which is an invitation-only course that has coaches with a minimum of UEFA B (FA Level 3) coaching certificates. In addition, we have excellent contacts within the game (including local academies) and can help ease their progress into the professional ranks, if that is the way your child and you want to go.
At the moment, we have had to postpone some of our courses because of Government guidelines, although we have been able to run a number of covid-secure sessions, with strict social distancing and cleaning protocols in place. To find out more about the latest situation, follow this link and fill in the online contact form.
Images: Wikimedia Commons