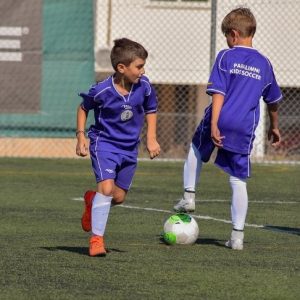 High-quality coaching can make all the difference for young athletes. It can help them enjoy sport and teach valuable life lessons which come in useful in the world beyond the playing field.
SoccerKidz provide high-quality youth soccer training in the London area. Here we look at five key areas which are essential for developing a successful coach-young athlete relationship.
Let Children Learn Problem-Solving
Coaches should make sure that the youngsters involved with sports training sessions solve their own problems. You can either let them do this on their own, or by allowing other members of the team or training session help out. Either way, it is important that the children don't always look to the coach for the answer.
It means that, as and when the youngster does succeed in mastering a new skill, there is a much greater feeling of achievement. This can help build up their confidence and problem-solving skills away from the sports field too.
Be Positive… Even When Being Critical
It is important that when the boy or girl is doing well, that fact is recognised. This can take the form of a simple thumbs-up, or by praising them in front of the whole group.
Young players can easily get discouraged by criticism. If you need to be negative about an aspect of their performance, then try to be constructive about it. Offer suggestions about how they could have done better at that particular task.
It's Not All About Winning
Remember, winning should not be the be-all and end-all when it comes to playing, or practising, sport. Place the emphasis on the hard work and effort that has gone into the training session or match, and don't concentrate too much on the final result.
Another way of achieving this is to organise sessions where the aim is to not score or win, but to achieve something through working together. They also stress that coaches should make sure the sport is a fun experience for all the children involved.
Set Goals or Targets
Children benefit if they can see they are working towards a specific goal or target. This can take the form of setting a personal best, giving them an incentive to complete a task more quickly, or efficiently, than they have before.
Remember, too, that the goal can be collective and not just individual. The goals should also take account of youngsters' different abilities, so make sure they are achievable. This in turn encourages the coach to get to know their children's capabilities better.
Work with the Parents
Parents have an important part to play in helping the coach motivate young athletes. Coaches need to tell mums and dads to support their children through their failures as well as they successes.
Equally, parents should be advised not to put too much pressure on their sons and daughters if not everything goes smoothly on the pitch or track. Mums and dads should stay calm on the touchlines and avoid offering too much advice of their own. A young athlete can easily get confused, stressed or frustrated if they are being offered conflicting instructions.
Youth Soccer Training in London from SoccerKidz
At SoccerKidz we pride ourselves on creating a positive learning environment for all the children who attend our youth soccer training courses in London and the surrounding area. We tailor the sessions to the age of the participants, making sure that all the activities are challenging but achievable – and, most of all, fun!
All our coaches are FA or UEFA qualified, DBS checked and trained in child protection and emergency first aid. This means your children enjoy a safe, positive learning environment, which allows them to find their own answers to any sporting problems which crop up during the sessions.
SoccerKidz run children's football coaching sessions in Cheshunt, Barnet, Haringey, and the surrounding areas. We also offer multi-sports sessions, giving the children the chance to enjoy different activities which they might not otherwise have the chance to play.
To get in touch or to view our current range of courses, follow this link and fill in the contact form.