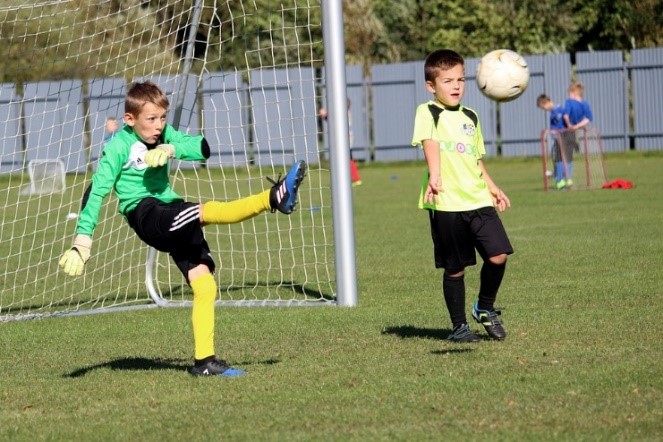 Who'd want to be a goalkeeper? You're often the last one picked for a kickabout, everyone blames you if you concede a goal, and you might not even be involved for most of the game.
But it can also be one of the most satisfying positions for a young person to take up. They can develop a number of ball-handling skills and positional awareness – and the thrill of making a good save is a memory that can last a lifetime.
SoccerKidz offer specialist 1-to-1 goalkeeper coaching for boys and girls in and around London, including Cheshunt, Broxbourne and Epping Forest. Here we look at how the goalkeeper's role has developed over the years, some of the most famous ones in recent times, and how we can help any your son or daughter if they fancy a spell 'between the posts'.
The Role of the Goalkeeper Through Time
When the Laws of the Game were first drawn up in 1863, there was no mention of the goalkeeper, as all players could handle the ball. It was only eight years later that the position of the keeper was first mentioned. The rules let them handle the ball 'for the protection of their goal'.
The rules of the sport have been amended through the years, mainly to stop goalkeepers from wasting time when their team is ahead. For instance, from 1992 onwards, they were not allowed to pick up the ball after it had been passed to them by a team-mate. And in 1997 the rule-makers decided that keepers should only be allowed to keep hold of the ball for a maximum of six seconds. This has led to keepers developing their skills as outfield players – so-called 'sweeper keepers'.
Famous Goalkeepers
The recent tributes to Gordon Banks, one of the finest goalkeepers that England have ever produced, show how much respect a quality No.1 is held in by the supporters and the general public. His death at the age of 81 came more than 50 years after he helped his country win the World Cup. But his path to the top was not without problems – he once conceded 12 goals in a Yorkshire League game.
For a large part of his career, Banks kept goal for Leicester City, until his position was taken over by another famous No. 1, Peter Shilton. In a career spanning 30 years, Shilton won 125 England caps, and won a host of club honours with Nottingham Forest. He is one of the few keepers who has scored direct from a goal kick.
The current England goalkeeper is Jordan Pickford, who started his professional career at Sunderland but was transferred to Everton in 2017 for a fee of £25million. His spectacular saves, particularly in a penalty shootout against Colombia, helped England get through to the finals of the 2018 World Cup.
Goalkeeper Coaching from SoccerKidz
At SoccerKidz our goalkeeper coaching in the London area focuses on a number of areas. We try to develop their mental skills which will help them cope with any mistakes and the criticism which could follow.
Our fully-qualified coaches also encourage a good attitude in all goalkeepers, while never forgetting that children learn more effectively when they are enjoying themselves. And we also look at technical skills, such as shot stopping, distribution, dealing with crosses and developing tactical awareness.
Other Courses from SoccerKidz
At SoccerKidz we also offer specialist training for outfield players as well. These help youngsters learn the basic skills of the game, including passing, dribbling, heading, shooting and defending.
We follow the FA's Child Protection and Best Practice regulations, so a parent or guardian should be on hand during all our 1-on-1 sessions, whether for outfield players or goalkeepers.
And we also offer a range of other courses, including weekend, and after school clubs, as well as elite training for gifted players. To find out more about our latest sessions, click on this link and fill in the online form or call us on 07946 260945.