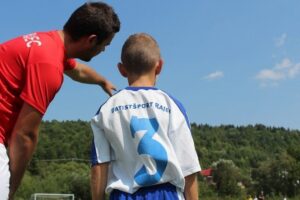 Why Youth Football is Important Coming out of Lockdown
SoccerKidz hopes to be back to normal soon, offering a full range of courses as soon as it is safe to do so. Here we look at five of the reasons why our football clubs for children in London and Hertfordshire are an essential tool in getting back to normal – and improving their wellbeing in the months ahead.
It Gives them Structure
It's important for children to have something to look forward to, particularly as most of them haven't been able to go to school for several months. Psychologists believe that any day where children don't have any structure or clear goals is more likely to result in conflict with those around them.
It Keeps them Healthy
Any sporting activity that young people enjoy, has a beneficial effect on their health. This is because exercise releases endorphins in their body, leading to what is generally known as a 'runner's high.' There are mental health benefits, too, as sport can combat stress, anxiety and other similar issues – it takes youngsters' minds off any of their problems.
Football is particularly good for children because it improves the hand/eye coordination needed for activities such as kicking, throwing and catching. And their physical endurance will increase through any running they do during a match or training session.
It Allows them to Socialise
Children need to have regular contact with their peers, which is something they will have been deprived of from the middle of March and the beginning of the coronavirus lockdown.
Playing with other children in a safe way is a vital tool in their personal development. It combats any feelings of loneliness they might be experiencing, and also allows them to develop their social skills and build a sense of personal identity.
It Take the Pressure Off Parents
Some parents find it difficult to strike the right home/work life balance, and this has been made even more difficult by the need to home-school your own children. At dedicated youth football courses such as those offered by SoccerKidz, you can rest assured that your children will be well looked after during the sessions. All our coaches are FA qualified, CRB checked, and trained in child protection. They are also fully insured and are qualified first aiders.
As well as following the coronavirus guidelines, we also have rules in place requiring a parental presence during some of our sessions. For example, during our 1-1 courses, a parent or guardian should be on hand over the full hour, in line with FA's Best Practice and Child Protection regulations.
It Helps Schools Too
At SoccerKidz our range of courses also helps take the pressure off schools. All teachers are now entitled to spend time away from the classroom for planning, preparation and assessment. The PPA cover which we offer in the London area means we can run sports lessons for schools, either independently of staff or as part of a collaborative effort.
We can also offer activities outside the scheduled timetable, through our after-school and lunchtime clubs. In all cases the pupils benefit from experienced, professional tuition.
Football Coaching Courses in London from SoccerKidz
SoccerKidz offers a range of football clubs for children in and around London, including Enfield, Epping, Cheshunt, Barnet and Broxbourne. Not all of them are tied to schools – for instance we run specialised 1-1 coaching for outfield players and goalkeepers, and a gifted and talented program. These are both for individual youngsters who show a real talent for the game. And our weekend clubs run over 10 weeks at both indoor and outdoor venues.
If you would like to know more about the courses we are currently able to offer as we start to come out of lockdown, follow this link and fill in the online form, or check out our current courses page.